Company History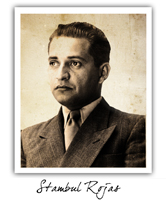 On 1960, our father Engineer Stambul Rojas Cordova founded our company by incorporating a small firm with the purpose of providing engineering and construction services.
Since then, we have participated in numerous projects, developing and building residential units, roads and streets, industrial facilities, public constructions and infrastructure in general, keeping high standards of excellence and customer satisfaction.
During these 50 years we have always considered our team as the most valuable asset STAMBUL may have. In fact, we are proudly able to say that there are people in our administrative and field departments that started with us back in our early days and are still helping us grow today.
Activities
We are a provider of services in the fields of Engineering, Supply, Contracting and Construction.
Since its foundation in 1960, Stambul has participated in several projects in the fields of industrial ventures, housing developments, roads and highways, hotels and hospitality, public buildings and general construction, keeping high standards of quality, competitiveness and customer satisfaction.
Which is our most valuable asset ?
Our people. We have a strong team of well trained professionals and technicians focused on servicing our customers with verified qualifications to perform meeting the highest standards. This, together with our sub contractors and reliable suppliers allowed us to successfully complete all of our projects.
Goals
We are a construction services company dedicated to developing and building residential units, industrial facilities, public constructions and general infrastructure. Our activities are aimed to further the progress of the countries we do business in, generating benefits to our customers, shareholders, employees, suppliers and the public in general.
We aim to develop our business based on principles of integrity, ethics, perseverance, safety in the workplace and respect for the environment.
Vision
In the long run, companies whose primary objective is customer satisfaction, are able to ensure the return expected by its shareholders, to provide the stability of its employees, and establish lasting relationships with their sub-contractors and associates. Stambul's primary goal is to satisfy the customer first.
Stambul's vision is achieved by:
Follow the ethical principles established by our founder.
Achieve permanence of our operations throughout the time by being competitive.
Seek for quality and constant improvement in all areas.
Make every effort to create and maintain long term relationships with all of our employees, suppliers and associates.